Webinar On World Environment Week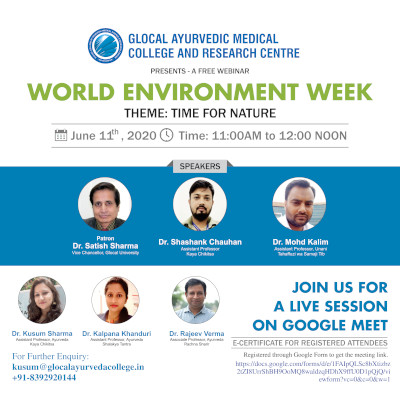 June is Environment Month. It is celebrated globally for positive Environmental action. On the occasion of World Environment Day Glocal University is organizing a webinar on 11th June 2020 around a theme "Time for Nature". It will focus attention on a particularly pressing Environmental concern, to appreciate the beauty of nature and its importance and take forward the call to protect the Earth.
The Honorable speakers of this webinar will be Prof. Satish Sharma (Vice Chancellor) of Glocal University, Dr. Shashank Kumar (Asst. Professor in Ayurveda College) and Dr. Mohd. Kalim (Asst. Professor in Unani College).
The organizing team will be Dr. Rajeev Verma (Asso. Prof. Rachana Sharir), Dr. Kusum Sharma (Asst. Prof. Kayachikitsa), Dr. Kalpana Khanduri (Asst. Prof. Shalakya Tantra).
Pls refer below registration link:
https://docs.google.com/forms/d/e/1FAIpQLSc8bXtizbz2tZI8UrrShBH9OoMQ8waldzqHDhX9ffU0D1pQjQ/viewform?vc=0&c=0&w=1