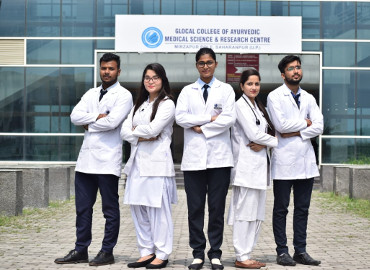 Ayurveda means "

the science of life

" (ayur means "life" and veda means "science" in Sanskrit). Ayurveda is a discipline of the upaveda or "auxiliary knowledge" in Vedic tradition. Ayurveda has its prime origin from Atharva-Veda and apart as a supplement of the Rig-Veda.

Dhanvantari is worshipped as the God of Ayurveda

. The aim of this system is to prevent illness¸ heal the sick and preserve life. The Ayurveda has its origins from the India and extended its wings in various parts of the world.Ayurveda was taught in Gurukula system in ancient days, which is now been evolved in to under graduate & post graduate courses from Institutions.
Why Choose

Us?

Why Glocal College of Ayurvedic Medical Science & Research Centre
The university is a non-profit institution.
100+ OPD, 250+ Patient Flow
A sprawling 350-acre campus with world-class infrastructure.
The university has its own hospital on campus.
More than 700 Beds in University Hospital.
Learn from more than 200 Experienced Faculty.
Residential campus, with separate in-campus hostels for males and females.
Campus has Air Conditioners , RO-filtered drinking water, an uninterrupted power supply, wireless internet, Television sets in common rooms, 24-hour security , Gymnasium, Bank, Etc.
150+ Companies Visited, 18+ Lacs Highest Package, 4.5+ Average Package, 500+ Student Placed.