Prof. Dr. Satish Kumar Sharma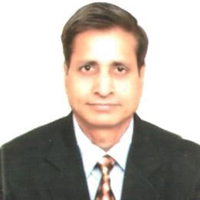 Ph.D Mahatma Jyoti Rao Phoole University, Jaipur,
M.Pharm (Pharmacology) DIPSAR (Delhi University) with a Gold Medal,
VICE CHANCELLOR, GLOCAL UNIVERSITY

Prof. Satish Kumar Sharma is working as Professor and Dean at School of Pharmacy, Glocal University. Previously he has worked as Professor and Director at Sunder Deep Group of Institutions, Ghaziabad. He has also worked as Professor and Principal at Lloyd Institute of Management and Technology, Greater Noida. Prof. Sharma has also served as associated faculty at DIPSAR, Delhi University. He has also served as the Chairperson, Academic Committee, Sunder Deep Group of Institutions (the largest technical campus in NCR). Currently he is the Chairman, CEGR Pharmacy Council. He has more than 30 years of fabulous experience in academics and research. Dr. Sharma completed his B. Pharm from DIPSAR (Delhi University). He passed his M. Pharm (Pharmacology) examination from DIPSAR (Delhi University) with a Gold Medal. He obtained his Ph.D. degree from Mahatma Jyoti Rao Phoole University, Jaipur. He has served as the member, LOC, 60 th Indian Pharmaceutical Congress, New Delhi; Co-chairman, LOC (Medical Services) at 65 th Indian Pharmaceutical Congress held at Delhi NCR; nominated as the Co-chairman, IPGA (Academic Division); Chairman, organizing committee, India Pharma convention (National Conference), held at DIPSAR, Delhi University; Chairperson, Organizing Committee, National Seminar organized in association with IPGA Welfare Trust, at SDPC, Ghaziabad; Chairman, organizing committee, National Conference held in association with IHPA; Co-chairman, LOC (Medical Services), 70 th Indian Pharmaceutical Congress held at Delhi NCR.
Dr. Sharma has delivered health talks in various TV shows- CNNIBN and Pragya Channel. He has participated in more than 60 national and international conferences as a resource person. He has handled research projects in collaboration with prestigious research institutes viz; All India Institute of Medical Sciences, New Delhi; Artemis Heart Institute, Gurugram; Biotech Park, Lucknow; and DRDO, New Delhi. He has published 48 research papers/review articles in referred National/International journals and has authored 3 books. He has also published 52 abstracts in proceedings of National/International conferences. Prof. Sharma has delivered many invited talks/FDP and PDP sessions on important topics such as: Time Management, Essence of Teaching, Yoga and Holistic Personality, Stress Management, Human Values and Professional Ethics, Current Trends in Pharmaceutical Education, Research Methodology, Cardiovascular Pharmacology and Nutraceuticals etc. at various National/International forums. He is reviewer and advisor of many national and international journals. He is editorial board member of World J of Pharmaceutical Sciences. As a life member he has been actively associated with many professional societies viz; Indian Pharmaceutical Association, IPGA, IHPA, APTI, SPER and CEGR.
During his illustrious career Prof. Sharma has received many national and international awards viz; academic excellence award conferred by Indian Pharmaceutical Association; award of excellence conferred by Johnson & Johnson Ltd.; award of appreciation by Magsaysay award winner Dr. Kiran Bedi for rendering dedicated health services at Tihar Ashram; outstanding paper presentation award; best research paper award by International Journal of Drug Development; best research paper award by Global Journal of Pharmaceutical Research; Shiksha Gaurav Award conferred by CEGR; Innovative Academic Leader Award 2017 presented by Global Skill Foundation; Academic Excellence Award conferred by SDGI; Best Pharmacy College Award by Center for Education Growth and Research; Pharma Recognition Award by Nirali Prakashan for outstanding contribution towards pharmacy education and research etc.
Areas of research interest: Phytopharmacology, Molecular Pharmacology and Cardiovascular Pharmacology. Role of herbs and nutraceuticals in the management of cardiovascular and gastrointestinal disorders.
E-Mail : vc@theglocaluniversity.in
Phone No. : +91-8392939359